Security cameras are an integral part of your home security system. You can't be everywhere at once, but with a good set of security cameras, you can keep an eye on your home no matter where you are. If you're in the market for surveillance cameras for your home, there's a lot to consider: what kind of cameras to get, what features to look for, and where to place them are just a few things to think about. Not only that, you'll also want to make sure you have enough cameras to effectively cover the most vulnerable and important areas of your home. If all of this sounds overwhelming, don't worry. Read on to find out everything you need to know to decide how many cameras you need.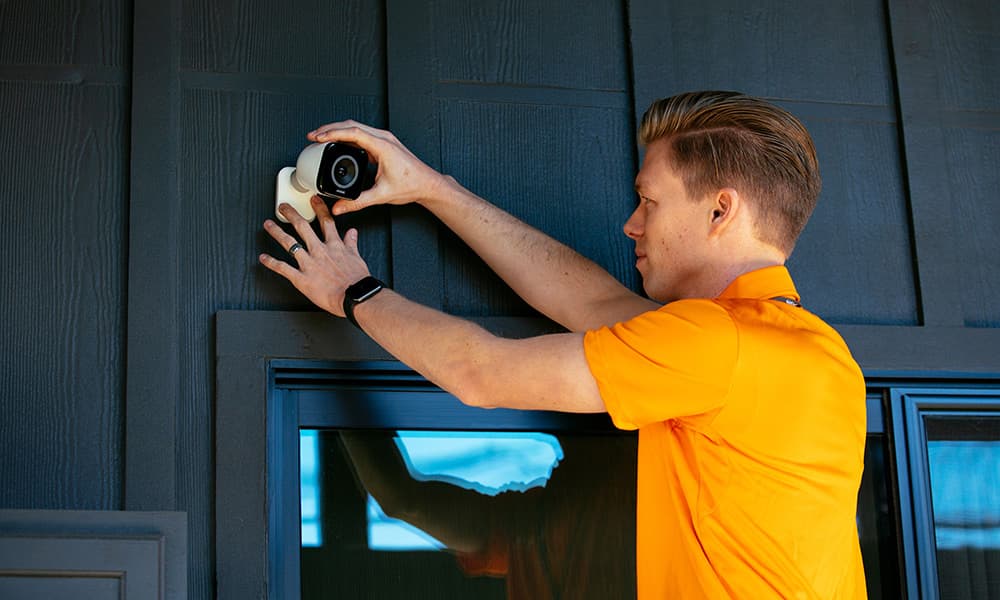 Indoor security cameras
Until recent years, many people thought of surveillance cameras as only necessary for businesses or large estate-style homes. But indoor security cameras have come a long way—they're more affordable than ever, deliver high-resolution footage, and video feeds can be accessed anywhere, making them a smart choice for families in the market for a complete home security system.
Approximately 20% of Americans use indoor security cameras in their homes, and the demand continues to grow each year as more people recognize the benefits security cameras provide. Some of these include:
Monitor your home from anywhere. You can view your live camera feeds or recorded footage no matter where you are through an app on your smart device.
Stay connected to family and pets. Want to check in on your kids or pets while you're away? Indoor cameras provide a way to check in at home and make sure everyone is safe and sound—and staying out of mischief.
Provide evidence. In the event an intruder ever gets inside your home, footage from your surveillance camera can be an invaluable tool for law enforcement.
View activities inside your home. It can be nerve-wracking letting people you don't know well into your home, whether it's a repair person, new babysitter, or cleaning service. An indoor camera provides peace of mind in knowing you can monitor activity that takes place inside your home.
What to look for when selecting an indoor camera
If you're in the market for an indoor security camera, the choices can be overwhelming. Some of the basic features you'll want to look for include:
Night vision. Night vision isn't just for outdoor security cameras; your indoor cameras should come equipped with infrared night vision, so you can clearly see what is happening inside day or night.
Two-way audio. This feature is particularly important for families and allows you to have a conversation with your kids, sitter, or family members right through your camera.
Motion detection. Some cameras continuously record and store footage, while others have built-in motion detectors that trigger recording only when there's action.
App availability. You should be able to access live and recorded camera footage via mobile app, anytime and from anywhere.
Field of view. Look for a camera that has a wide-angle lens for the best coverage.
HD resolution. The last thing you want is a camera with poor resolution. Look for one with 1080p resolution for the clearest picture.
WiFi connectivity. WiFi cameras provide greater flexibility with placement, since you don't have a wired connection that limits where you can put your camera.
Wireless or wired?
One of the main things you'll need to decide when looking for a security camera is whether to get a wireless or wired security camera.
A wired camera requires cables to connect it to the internet, as well as for video transmission. Some believe the physical connection between the ethernet cable and camera means wired cameras don't experience the interference that wireless devices sometimes have, but that's not always the case.
Installation for wired cameras is more complicated than wireless, often resulting in visible cables or pricey installation fees to hide and manage wiring. It also limits the number of areas where you can put your camera.
Wireless cameras, on the other hand, do not require complicated installation. They connect directly to WiFi and can be placed anywhere you have a WiFi connection. It's also important to note the majority of WiFi-enabled cameras still require an AC adapter in order to connect it to a power source, so they're not truly wireless but they do take advantage of a wireless Internet connection. There are battery-operated surveillance cameras on the market, but the use of batteries means more upkeep and expense to maintain.
If you plan on making your security camera part of a complete smart home system, a WiFi-enabled camera makes this much easier. Since most homes don't have enough cable and DSL ports for all of their devices to connect to, most people prefer WiFi-enabled devices for their smart homes.
Outdoor security cameras
Security cameras for the outside of your home are just as beneficial as cameras for the inside.
Outdoor security cameras offer a number of benefits. A few of the major perks of having an outdoor security camera include:
Deter crime. In 2017, more than 13 million households fell victim to property crimes, which include car theft, burglary, vandalism, and other types of theft. One survey of convicted burglars found visible outdoor security cameras were an effective deterrent against burglary, as many burglars didn't feel the risk of being identified was worth the effort.
Protect your packages. More than 30 percent of online shoppers have had a package stolen right off their porch. An outdoor or doorbell camera can help you keep tabs on your packages, so you can determine if missing packages were stolen or simply delivered to the wrong address.
Safely see what's going on outside. What do you do if you're awakened from your sleep in the middle of the night and you hear a noise outside? According to law enforcement officials, your safest bet is to avoid confronting an intruder. With an outdoor camera, you can check your camera feeds from the safety of your home, and then decide what action to take from there.
Protect your car. Each year, more than 770,000 vehicles are stolen, including cars, trucks, and motorcycles. If you keep your vehicle parked in the driveway, an outdoor camera can help you keep an eye on it.
Obtain evidence. Your camera feed can be valuable in obtaining evidence or identifying those responsible for vandalism on your street or theft on your property.
Check in on kids and pets. You can't be everywhere at once. An outdoor camera makes it easy to check on your kids and pets while they play outside and you get things done around the house.
When choosing an outdoor security camera, you'll want to look for a certain set of features, some of which are similar to indoor cameras. Some of these include:
Night vision. With 26% of burglaries occurring during in the evening, an outdoor camera with infrared night vision is a must.
Weather-proof. Your camera should withstand high and low temperatures along with rain, snow, and other elements.
Auto-recording. Most people can't check their camera feeds day and night, but that doesn't mean you need to miss anything.
Motion detection. This feature goes along with auto-recording; the camera should use motion detection to trigger auto-recording.
HD clarity. Crystal-clear images are particularly important for outdoor cameras, when weather and lighting conditions are constantly changing. Look for an HD camera.
Wired vs. wireless outdoor cameras
Another thing you'll need to consider when you shop for an outdoor camera is whether to go wireless or wired.
As with indoor cameras, wireless outdoor cameras are typically easier to install and get up and running. Wired cameras tend to require more extensive installation and wiring.
If you have a lot of property or outbuildings, you may not have a wireless network that supports placement of outdoor cameras all over your property without a WiFi extender. Or, if you live in an area that does not get a strong wireless signal, you may need to consider wired outdoor cameras.
One valuable workaround is a wired connection from the outdoor camera to inside the home, and from there connecting wirelessly to a central hub. This method prevents the wireless signal from degrading or getting lost as it tries to penetrate through the exterior of the home.
Where to place security cameras
Now that you know why you need security cameras, another important question to address is where to place them. As a general rule, you'll want to place both your indoor and outdoor cameras in your home's most vulnerable areas, as well as areas you want to keep a closer eye on inside the house.
Outdoor security cameras placement
Some of the best places to mount your outdoor security cameras include:
Front door. Thirty-four percent of burglars use the front door to gain entry into a home, so a camera that captures the front of your home is an important place for a camera.
Front of the house. You should also place a camera that has a good view of the front of your house and yard. This will give you a clear view of areas like your driveway, garage door, and walkway.
Backyard. You'll also want to put an outdoor camera in the back for a view of your backyard and the backside of your home. You can place your camera over a window or back door for a good overall view of your backyard, or direct it toward a shed or gate.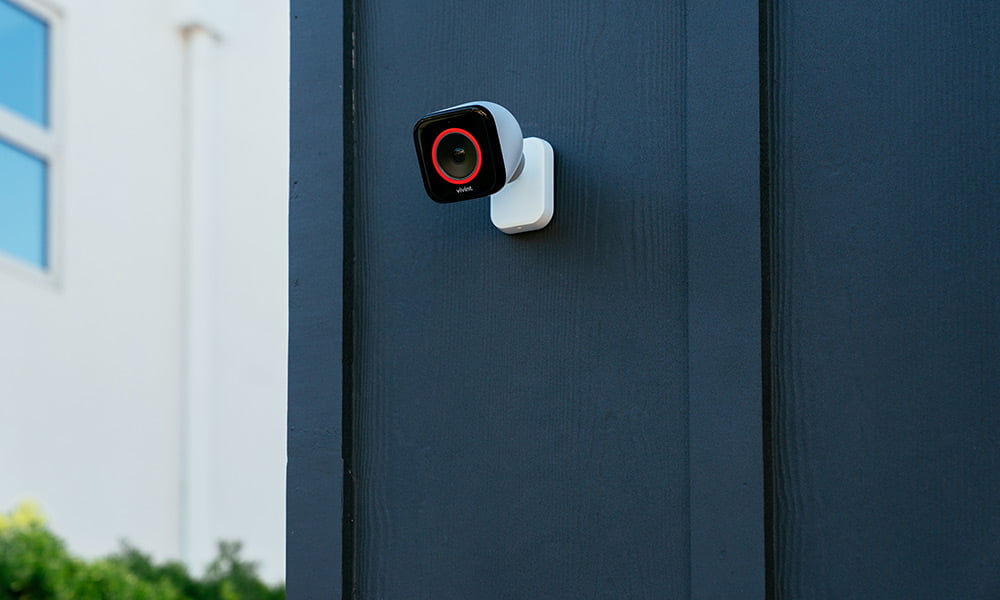 Indoor security cameras placement
What about your indoor security cameras? That depends on what you're using the camera for. If you want to keep an eye on kids and pets, you can place your camera in places like:
Family room. If your family and pets tend to hang out in the family or TV rooms, you can place a indoor camera camera there to check up on them wherever you are.
If you're using your camera as part of your surveillance system, a few places to put your cameras include:
Areas that contain valuables. One survey of real burglars found the majority head straight to the master bedroom to look for valuables like jewelry, cash, or safe deposit boxes.
Points of entry. Front and back doors and windows are good places to put indoor security cameras to catch any potential intruders.
Garage. For homes with attached garages, placing an indoor camera inside the garage can help you monitor vehicles, bicycles, storage, and sporting equipment.
How many security cameras do you need?
The number of security cameras you need depends on a number of factors. The first thing you'll need to determine is what you're using the cameras for. If you want to use your outdoor cameras as deterrents for burglars, for instance, you'll want to put more cameras in obvious places.
If you're using them to watch family and pets, you might want to have more indoor cameras. Maybe you'll want to put one in each child's room, or just one that points to your doggy door. If you want them as evidence or to keep an eye on valuables, you'll need cameras for each of these areas.
As a general rule, 3-4 cameras for the following areas are a great start for most homes:
A doorbell camera to keep an eye on the front door and packages
1-2 outdoor cameras for the front and back of the house
An indoor camera inside to watch valuables, kids, or pets
Keep in mind you can always add more cameras to your home if you find you want an extra set of eyes somewhere.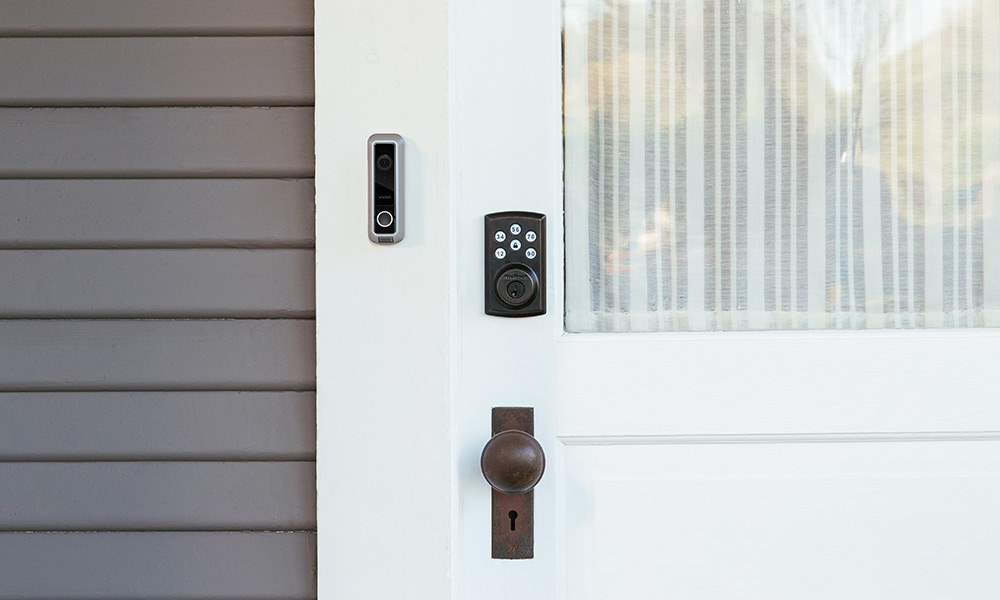 Some other things you'll want to consider as you decide how many security cameras you need include:
The size of your home. The bigger your home is, the more cameras you'll need. This is especially true for outdoor cameras.
The size of your property. If you have a smaller home on a smaller lot, you won't need as many outdoor cameras as someone with a home on several acres.
Whether or not you have outbuildings. Do you have a shed or workshop that contains valuable tools or equipment, or a barn for animals? If you have multiple outbuildings on your property, you'll likely need more cameras in order to keep an eye on everything.
The type of camera you're using. If you have high-quality cameras with wide-angle lenses that provide a greater field of view, you can use fewer cameras.
The bandwidth limit in your network. Wireless cameras depend on your network's bandwidth for connectivity and recording, so you may be limited by your bandwidth.