1.Eliminate Physical Contact
Access control systems can help eliminate physical contact preventing the spread of illness. By allowing your employees to enter the facility with a swipe of a contactless credential, you can reduce the amount of physical contact between employees and limit the surfaces touched.
This system can also give your business the ability to buzz in a single individual at a time, limiting the foot traffic coming in and out of the facility. This service is ideal for high-risk locations such as a doctor's office, school building, banking location, or government facility.
2. Customize Access
There are endless reasons why a business would want to control who is coming in and out of their facility. With a traditional lock and key, it is impossible to limit the times in which a physical key will work or ensure only trusted employees have access to rooms with sensitive information. An access control system is a resource for a business to run more efficiently and effectively protect property
3. Avoid Expensive Re-Keying
Whether you have lost a set of keys or recently fired an employee, is it best practice to rekey the doors of your facility.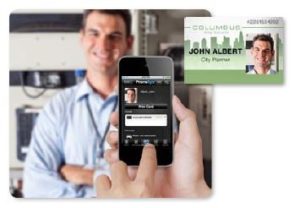 This process is extremely tedious and can cost you valuable time and money.
An access control system eliminates this headache. Simply terminate an employee identification card or quickly change areas of access through the use of a phone app or software.
4. Burglary Detection
When a burglar sets their sight on a business, it is typically not their first time inside the facility. By taking advantage of an access control system you can add an extra layer of security through the use of biometrics and identification badges. These credentials are difficult to duplicate and create a formidable barrier around your facility. If an unauthorized badge is scanned, it can alert an administrator; giving you time to alert the authorities and lockdown the facility.
5. Reduce Employee Theft
No one wants to believe that an employee will steal from them, yet statistics show that U.S. businesses lose $50 billion each year due to employee theft.
With an access control system, you can make it much more difficult for your physical inventory to go missing. From limiting access to areas with high risked items to keeping a record of who entered the facility at a certain time, you can help prevent employee theft.
6. Protection of Team Members
Potential threats are evolving in the era of information. A business needs to be proactive in its security measures to prevent these future threats. In the event of an emergency, an access control system can allow you to prevent an unauthorized individual from entering the premises or track who remains in the building. Allowing you to effectively protect your employees and other individuals within your facility. This can be especially important for employees who work late in the day or overnight.
Additionally, an access control system allows your employees to quickly enter the building. They can swipe an identification card or use biometrics to enter quickly. Eliminating time spent searching for lost keys or waiting for another employee to arrive, thus reducing the risk of an attack.
7. Provide Auditing Features
An audit can become a business's number one asset. It can be difficult to accurately track who is entering your facility and when. By installing an access control system, you can easily monitor an employee's attendance and activities. Effectively providing you with an in-depth look at an individual's productivity. Which in turn is vital for managing timekeeping and ensuring honesty within your workplace.
As mentioned before, an audit can also provide you with a record of who was in the building when an incident occurred, such as theft or damage to property.
8. Meeting Demands of Privacy Laws
Does your company store sensitive information such as patient's medical charts? Is your company in charge of the client's financial information? Does your company manage expensive assets that can be found inside a bank? With an access control system, you can add an extra layer of security to these high-risk areas, allowing you to meet the demands of privacy laws.
If you would like liquidvideotechnologies.com to discuss developing your Home Security System, Networking, Access Control, Fire, IT consultant, or PCI Compliance, please do not hesitate to call us at 864-859-9848 or you can email us at deveren@liquidvideotechnologies.com.
Article Provided By: Fleenor Security Systems